School Bus Safety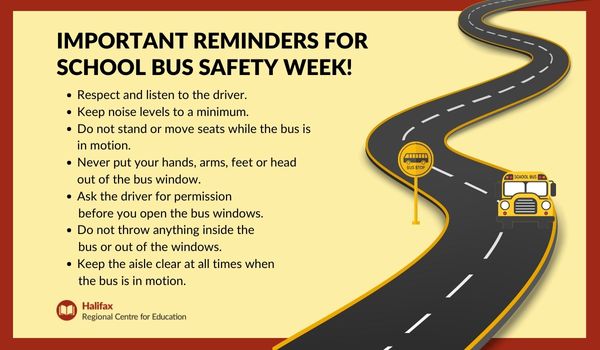 School Bus Safety Week

October 16-23, 2023 is School Bus Safety Week in Nova Scotia!

Did you know that HRCE has more than 30,000 students who ride the school bus every day?

School Bus Safety Week is a great time to remind students, families and schools, of a few daily safety tips that everyone can follow to ensure all students get to school safely.

Bus Stop Safety
Be on time for the bus and please don't run to/from the bus.

Stand back off the road and don't push or shove when waiting at a stop.

Always cross in front of the bus. Walk three metres (10 feet) in front of the bus to a point where you can see the driver and wait for the driver's signal to cross. Proceed to the centre of the road, STOP, LOOK & LISTEN and cross the road when it is safe.

Never crawl under a school bus or cross the road behind the bus.

Know the danger zones around the bus.

School Bus Safety
Please respect and listen to the driver and avoid distracting them.

Please keep noise levels to a minimum.

Do not stand or move seats while the bus is in motion.

Never put your hands, arms, feet or head out of the bus window.

Ask the driver for permission before you open the bus windows.

Do not throw anything inside the bus or out of the windows.

Keep the aisle clear at all times when the bus is in motion.
You can find out more information about School Bus Safety Week, including more safety tips, here.

https://www.schoolbussafety.ca/kids